Contract Drafting and Review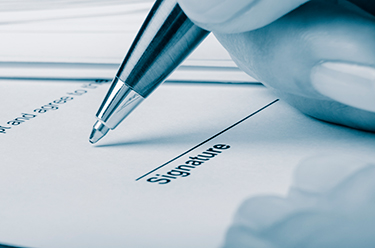 The purpose in drafting a contract is to anticipate likely scenarios and to avoid the unnecessary ambiguities that can lead to litigation. Accordingly, contracts must be written in a clear and concise manner that makes plain the requirements and expectations of the parties. Mr. Everitt takes pride in providing his clients with contracts that are straightforward and unambiguous while, at the same time, maximizing their protection.
In addition to drafting contracts, the Law Office of Terence J. Everitt can review agreements received from other law firms or corporate legal departments. Before signing any contract, it is imperative that it first be understood. Every contract contains potential liabilities and should therefore be reviewed by experienced legal counsel to make certain that you are aware of what it is you are agreeing to.
Mr. Everitt has experience in drafting and reviewing a variety of business contracts including:
Asset Purchase Agreements
Construction Contracts
Employment Agreements
Independent Contractor / Consulting Agreements
Joint Venture Agreements
Letters of Intent
Licensing Agreements
Merger Agreements
Mutual / One-Way Non-Disclosure Agreements (NDAs)
Non-Compete Agreements
Note Purchase Agreements
Operating Agreements
Promissory Notes
Real Property / Commercial Leases
Security Agreements
Shareholder Agreements
Supply Agreements
If you are interested in having an experienced attorney look out for your interests, manage your risk, and help you avoid unnecessary disputes, contact the Law Office of Terence J. Everitt at 919-561-1416 or submit an inquiry here. Mr. Everitt is Wake Forest business lawyer serving individuals and businesses throughout Wake County, including Raleigh, Rolesville, Youngsville, Morrisville and Cary.
Contact an attorney at our law office today for all your legal needs.